Deployment of technological data transmission networks requires specific networking equipment, which complies with industrial network standards.
Omnicube builds solutions based on Cisco Systems equipment, which offers a full range of devices in industrial chassis.
Industrial switches, routers and access points operate within wide temperature range (from -40 C to +70 C), support specific industrial protocols and have built-in tools to simplify configuration and setup.
All devices for industrial network use familiar Cisco IOS and use common management tools.
Family of industrial switches is represented by Industrial Ethernet ranges of 1000, 2000, 3000, 4000 and 5000 series, covering both access layer connections as well, as distribution and backbone. Capabilities also include security features, which help create modern, reliable and secure LAN infrastructure.
Cisco IE4000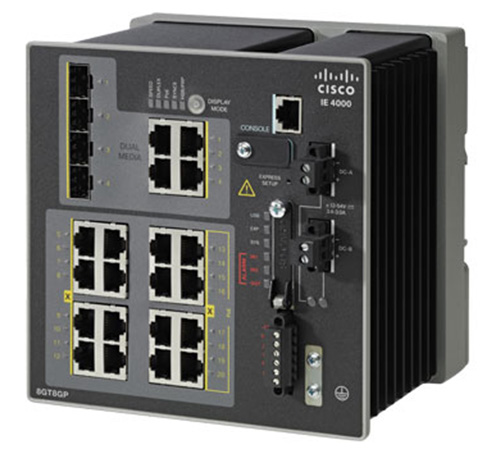 Family of industrial routers consists of ASR900, CGR2000, CGR1000 and IR800 ranges of devices, the latter, along with IE4000 and IE5000 switches support fog computing (capability to launch external software on the device).
Cisco Industrial routers

Cisco Industrial ranges support TSN standards (Time Sensitive Network), which provide very low delay in transmission and high data availability.
TSN standards are used within convergent networks with streaming audio and video in real-time, as well, as within networks, which control equipment functioning in relation to each other.